Het Fund Seminar magazine
In 2022 heeft het Fund Seminar-team een extra dimensie toegevoegd aan de 'real life' Fund Seminar-ervaring: Fund Seminar magazine. Deze glossy biedt informatie over alle fondshuizen en sponsors van het Fund Seminar-event in september, aangevuld met journalistiek onafhankelijke artikelen en interviews. Ook voor het magazine geldt: dit is het medium 'where the industry meets'!.
Business enabler in salesgesprekken
Sponsors hebben aangegeven dat ze blij zijn met deze glossy als een nuttige giveaway en business enabler in hun salesgesprekken. Voor advertentie- en sponsormogelijkheden kunt u contact op nemen met Sanne Vlaar (sanne@fundseminar.nl).
Papieren naslagmogelijkheid
Fund Seminar magazine biedt een papieren naslagmogelijkheid van het jaarlijkse Fund Seminar-event op de laatste donderdag in september. Hier ontmoeten professionals in vermogen elkaar jaarlijks om zich te laten informeren en inspireren. Meer dan 150 professionals komen hier jaarlijks bijeen om meer dan 20 fondshuizen ontmoeten. Het concept is beproefd: vijf workshoprondes plus demo rooms, een bekende keynote spreker, een uitstekende lunch en een economenpanel, omlijst door hospitality op hoog niveau, met als afsluiting een bruisende netwerkborrel.
Fund Seminar: 'where the industry meets'
De eerste editie van Fund Seminar vond plaats in 2009 als kleinschalige educatieve sessie en is inmiddels uitgegroeid tot een instituut in de sector; 'where the industry meets'. Elk jaar groeit het aantal deelnemende vermogensbeheerders mee met het programma. Ook educatief-inhoudelijk is Fund Seminar geëvolueerd en tegenwoordig ontvangen deelnemers PE-punten van verschillende vakorganisaties voor deelname aan het Fund Seminar-event.
Geïntegreerd platform
Fund Seminar is sterk gegroeid. Sinds enkele jaren is er naast de Wholesale-editie ook een Institutional variant op dezelfde dag in september. Verder is er de jaarlijkse uitreiking van de Fund Awards, powered by Infront, evenals Fund Seminar Sessions, kleinschaliger events geheel op maat. Door het jaar heen is er de vertrouwde wekelijkse nieuwsbrief waarin partijen zich kunnen presenteren, er zijn maandelijks nieuwe podcasts te beluisteren op de website, en er zijn volop mogelijkheden om zich te profileren via de nieuwsbrief, de Profiel pagina of via het plaatsen van vacatures.
Meer weten?
Voor advertentie- en sponsormogelijkheden kunt u contact op nemen met Sanne Vlaar (sanne@fundseminar.nl).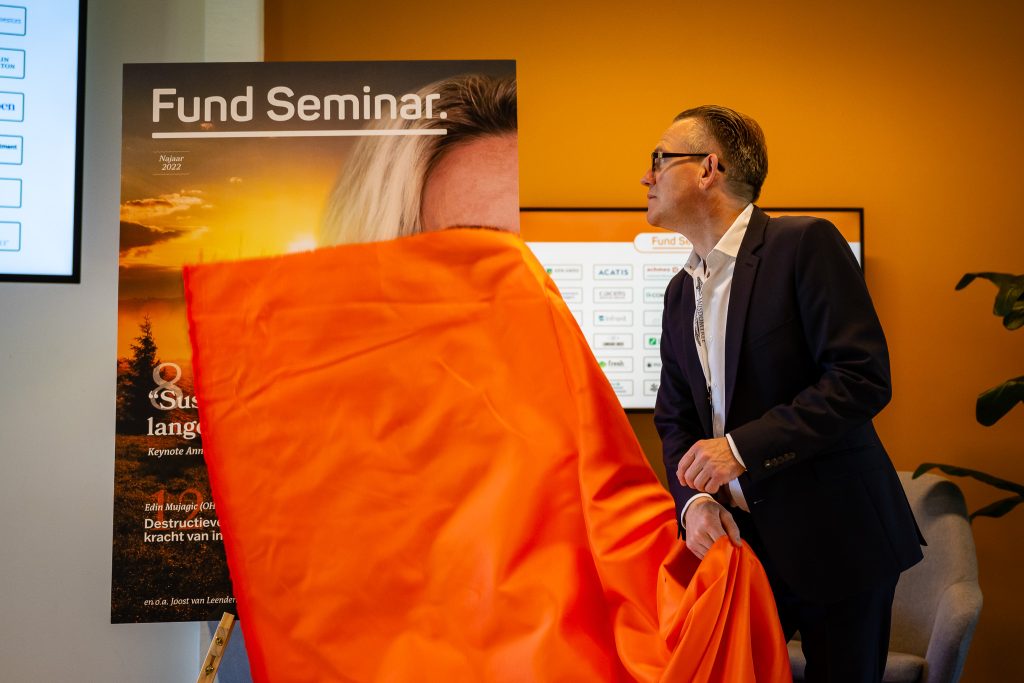 Artikelen uit het magazine 2022
De podcast reeks van Fund Seminar. Dit stukje tekst met uitgebreid en aangevuld worden. Door u in te vullen wie er achter de microfoon zit. Het team van Fund Seminar zorgt voor een professioneel journalist die de podcast presenteert.