Q&A met Bas van Nieuweweme, Global CEO, Aegon Asset Management
"We blijven hard werken aan het kunnen bieden van competitieve rendementen aan onze klanten. Dit doen we vooral door ons te fo-cussen op onze expertise in maatschappelijk verantwoord beleggen en alternatieve vastrentende-waardenproducten zoals Nederlandse hypotheken, ABS en private-debtproducten zoals directe MKB-le-ningen." Aan het woord is Bas NieuweWeme, CEO van Aegon Asset Management. Michiel Pekelharing interviewt de CEO tijdens de Aegon AM ontbijtsessie van Fund Seminar op 29 september.
Wat heeft u gedaan toen u aantrad als CEO van Aegon Asset Management in 2019?
"Allereerst ben ik aan de slag gegaan om Aegon Asset Manage-ment goed te leren kennen. In de eerste periode na mijn aanstelling heb ik met zoveel mogelijk medewerkers gesproken, en vooral naar ze geluisterd. Ik typeer die eerste periode als "Ask, Listen and Learn". Het werd mij al snel duidelijk dat we ons moesten gaan bewegen als één wereldwijd geïntegreerde organisatie met één merk. We hebben dan ook de merken Kames Capital en TKPI die wij respectievelijk in het VK en in Nederland voerden, gerebrand naar Aegon Asset Management (Aegon AM)." "Ik heb van mijn carrière als hockey-international focus, doorzettingsvermogen en ambitie geleerd, maar vooral dat het werken als een team het allerbelangrijkst is om successen te behalen. Ik geloof niet in sterspelers, of in het geval van Aegon Asset Management, ster-portfoliomanagers. We doen dit echt samen." "We hebben de beleggings-teams in vier platforms ingedeeld; fixed income, real assets, equities en multi-asset & solutions, en onze research, distributie, operati-ons en functionele teams wereldwijd georganiseerd."
"Om in een mondiale omgeving concurrerend te zijn, moeten we schaalgrootte opbouwen in traditionele actieve fondsen. Eveneens moeten we ons richten op de ontwikkeling van onderscheiden-de alternatieve strategieën die niet gemakkelijk door indextrackers of passieve partijen kunnen worden gerepliceerd. Dit alles wordt gedaan met een sterke focus op maatschappelijk verantwoord beleggen (MVB)."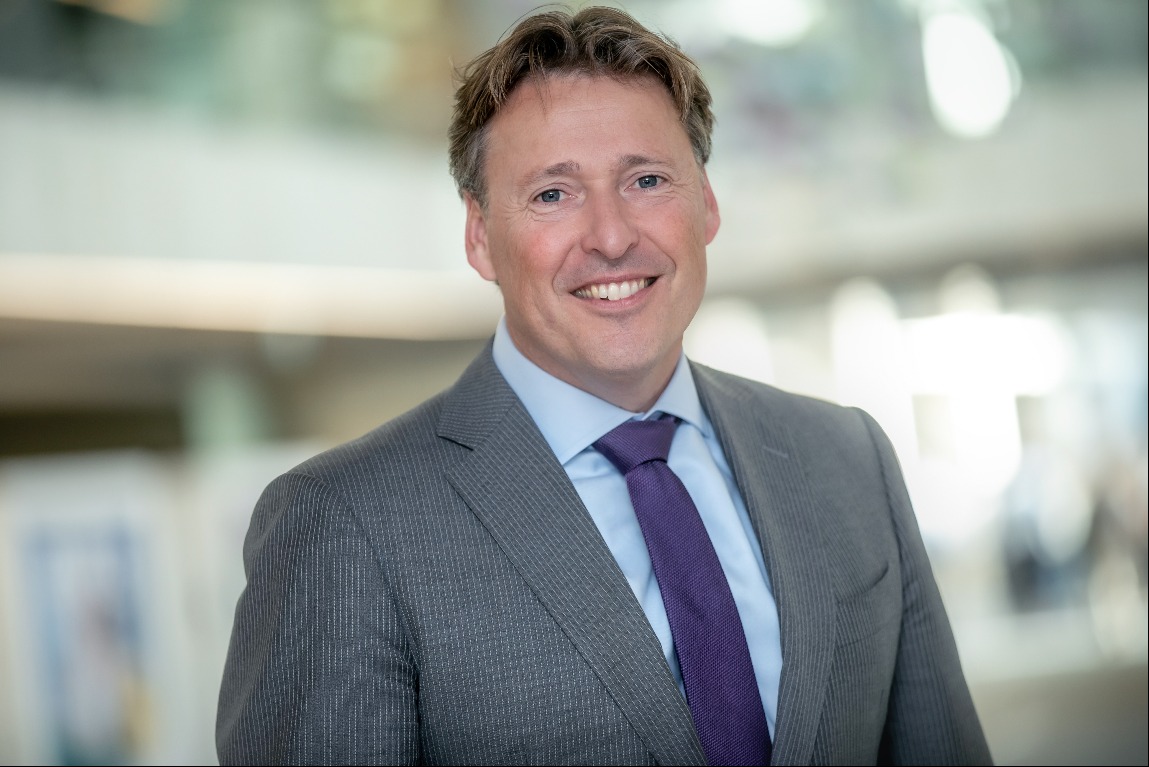 Welk impact had de CO-VID-pandemie op de organisatie en op de business, een jaar na uw aantreden?
"Een mondiale pandemie had niemand zien aankomen, en deze had dan ook een grote impact op onze organisatie en onze medewerkers. We gingen van gemiddeld vijf dagen op kantoor werken, en elkaar zien en spreken, naar een volledige lockdown. Onze medewerkers daar zo goed mogelijk in ondersteunen had toen de hoogste prioriteit. Uiteindelijk is het thuiswerken een blessing in disguise gebleken, omdat het de nu meer global georganiseerde teams in staat stelde om elkaar te ondersteunen en samen te werken vanuit een gedeelde ervaring." "We zijn nu gemiddeld twee tot drie dagen in de week terug op kantoor. Het gevoel onderdeel te zijn van deze organisatie is van onschatbare waarde en elkaar weer in het echt kunnen ontmoeten is goed voor innovatief samen denken. Ik ben erg blij dat dit weer kan. Wel hebben we onze kantoorcapaciteit teruggeschaald om beter te passen bij de huidige realiteit van hybride werken." "De pandemie heeft de aandacht van beleggers nog meer gericht op maatschappelijk verantwoord beleggen en ESG, en wij zijn in de positie om oplossingen voor deze vragen van onze klanten te kunnen bieden."
Wat zijn uw belangrijkste agendapunten als CEO van Aegon Asset Management?
"De financiële markten geven altijd aanleiding voor alertheid, en we hebben nog een heleboel uit-dagingen te gaan in dit post-pandemische tijdperk met de oorlog in Oekraïne, spanningen tussen Taiwan en China, historisch hoge inflatie en brandstofkosten, en grote tekorten op de arbeidsmarkt." "We blijven hard werken aan het kunnen bieden van competitieve rendementen aan onze klanten. Dit doen we vooral door ons te focussen op onze expertise in maatschappelijk verantwoord beleggen en alternatieve vastrentendewaardenproducten zoals Nederlandse hypotheken, ABS en private debtproducten zoals directe MKB-leningen. Daarnaast zijn we met Karin Roeloffs, onze Head of Fiduciary Business, onze fiduciaire propositie verder aan het uitbouwen in de Nederland-se pensioenmarkt. We kunnen een belangrijke rol spelen in het nieuwe pensioenstelsel dat in 2023 ingaat. Aegon ziet kansen in de Nederlandse pensioenmarkt waar de dynamiek toeneemt door de nieuwe Wet Toekomst Pensioenfondsen. Met ons uitbestedingspartnerschap met het APF Stap, de DC-ervaring van Aegon Capital en onze directe fiduciaire business zijn wij als Aegon Asset Management daarvoor uitstekend gepositioneerd."
"Ook leggen we door het simplificeren van onze back- en mid-officeprocessen en -systemen de laatste hand aan onze positie als wereldwijde organisatie. Onze strategie om een echte wereld-wijde vermogensbeheerder te worden, die gebruik maakt van de sterke punten van al onze vestigingen met één enkele, wereldwijd geïntegreerde structuur maakt ons een geduchte speler in de markt."
Een belangrijke stap die u heeft genomen is de implementatie van een global operating platform. Hoe be-langrijk is het hebben van een global operating platform?
"Het hebben van een global operating platform is ontzettend belangrijk. Het snel veranderende technologische landschap vraagt om gebruik van de expertise van leveranciers die zich toeleggen op technologische vooruitgang. De wereldwijde implementatie van BlackRock Aladdin and Clearwater brengt ons de beste technologie voor snellere en betere dienstverlening aan onze klanten, binnen een verhoogd risk control framework. Het reduceren van het aantal systemen dat we gebruiken en het standaardiseren van processen zorgt ervoor dat we veel efficiënter kunnen opereren. Dit geeft ons de ruimte om ons meer te richten op onze kernactiviteit, namelijk beleggen." "Wij kijken voortdurend naar ontwikkelingen in de sector en naar gemeenschappelijke platforms die ons in staat stellen onze klanten nog beter van dienst te kunnen zijn en risico's te mitigeren."
"Bij Aegon Asset Management zit maatschappelijk verantwoord beleggen in het DNA" is een uitspraak van u. Op welke manier onderscheidt Aegon AM zich met haar maatschappelijk verantwoord beleggen en op welke manier draagt dit bij aan "Helping people live their best lives", de purpose van Aegon AM?
"Als actieve asset manager werken we al 30 jaar vanuit een maatschappelijk verantwoord beleggen-ambitie. We hebben niet alleen een groot Responsible Investment team dat zich focust op het verbreden van onze MVB-capabilities, maar helpen onze klanten ook om hun ambitie om zo verantwoord mogelijk te beleggen te bereiken en de wereld beter achter te laten dan we haar gevonden hebben. Ons Investment Solutions team bijvoorbeeld maakt mandaten op maat waarbij duurzaamheid geïmplementeerd kan worden, en we hebben samen met ABN AMRO een Global Equity Impact fonds naar de markt gebracht. Met onze Franse joint venture partner LBPAM zetten we ons verder in om een mooi pakket aan duurzame beleggingsoplossingen te kunnen aanbieden." "We zijn onze bestaande ESG- en RI-strategieën aan het uitbreiden en ontwikkelen nieuwe duurzame en impactbeleggingsproducten, terwijl we ook onze bestaande niet-RI strategieën gaan aanpassen. Een voorbeeld hiervan is de toevoeging van de Global Sustainable Listed Real Estate strategie vorig jaar als onderdeel van de beleggingspropositie van Aegon Capital. Het doorontwikkelen naar een duurzamere propositie is een continu proces dat in nauwe samenwerking met klanten plaatsvindt."